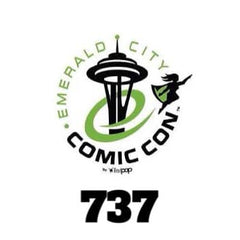 Truffle family, friends,  It's been a LONG week.  While we waited to see if we were going to be enjoying ECCC or not, we were excited, upset, sad, and worried.  The Coronavirus won out and the convention was cancelled.
As you know, we have prepared lots of chocolate for you, our fans for this coming weekend and now, with no ECCC to come to we still have and will have lots of chocolate.  Can you do us a BIG favor?  Will you please pass us along to your friends and family that may be interested in nerdy chocolate?
In the meantime, while we can't change the outcome of the convention, we can do our part to bring a small part of the convention to you.  We'll call it our online convention, booth 737. Starting today, we will be offering free shipping on all orders over $40.00.  Hopefully this can bring you some really sweet nerdy joy that you might have missed at ECCC.
We can't thank you enough for following us and supporting us.  We wouldn't exist without you.
Until the next con,
Jennie