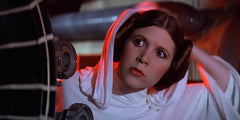 Princess, General, Mental Health Advocate and all around BA; Carrie Fisher is one of those people that burnt bright and left us too soon. As a female owned business, that currently employs several women, we have of course been talking about the part she played as a role model to all of us.
As someone who personally wanted to be Indiana Jones when they grew up (I still low-key do), and knows definitively that Han Solo is the smoothest operator in the Galaxy, I have always found it refreshing to see a Damsel-in-a-dress doing some butt kicking.
I have always been drawn to strong characters that went on epic adventures, but it was princess Leia Organa specifically that showed me I could do it in majestic white with a sleek up-do.
Off the screen, everyone's favourite Princess was a warrior in her own right. Dealing with addiction and mental health problems, Carrie Fisher was never ashamed of who she was or the cards she had been dealt.
In 2000, she bravely stated…
"I am mentally ill. I can say that. I am not ashamed of that. I survived that, I'm still surviving it, but bring it on. Better me than you."
What a real life example of courage.
I have no claim to meeting Ms Fisher directly, but The Truffle Cottage once had the briefest of encounters with her…
In 2015, we attend Rose City Comic Con and it was going pretty typically for us. We had done trade for our booth as we often do, meaning that in exchange for attendance we had given the Con lots of Star Wars themed chocolate and truffles, which they put in the Celebrity gift bags and hotel rooms.
This is always a fun arrangement, because it usually means that the guests/celebrities will come to our booth to let us know that they liked it or to ask if they can try something else. We absolutely love getting to meet some of our idols and favourites from various fandoms: there is nothing cooler than watching John Barrowman eat a cookies and cream Dalek or John Rhys-Davies laugh when he sees a spicy chocolate Eye of Sauron!
Anyway... at the end of the last day, we had been so busy we hadn't had a chance to sneak away and try to see Ms Fisher. As genuine, hardcore Star Wars fans, she was of course top of our list, but anyone that has worked at The Truffle Cottage booth knows that we hardly stop to take a breath whilst the floor is open.
We were sad to miss her, but grateful as always that our products had been so well received and that people were enjoying themselves (we always have a lot of fun at Cons, thank you to everyone that comes to see us)!
Busy reorganizing the table and telling people flavors, we about fell over when The General herself suddenly appeared, and with a sweeping gesture, declared: 'I'll take all the Han Solos in Carbonite'. She then flashed us a smile and was off again, leaving her poor handler to find some money and balance armfuls of cookies and cream filled Han Solos.
We don't know for sure, but we like to think that she ate them all herself… or maybe she shared with some with Gary.
In this time of sadness at her passing, we can't but help remember that briefest of encounters with fondness and a smile. That is why we have decided that for the whole month of January, in memory of this bright, brave woman, we are going to donate a portion of all Star Wars related sales (check in our Star Wars section) to the Depression and Bipolar Support Alliance.
http://www.dbsalliance.org/site/PageServer?pagename=home
It's a small gesture but it is the best way we can think of to honour the memory of someone that wasn't ashamed to be who she was, and taught other people it's okay for them too.
Carrie Fisher: drowned in moonlight, strangled by her own bra… Rest In Peace Princess.